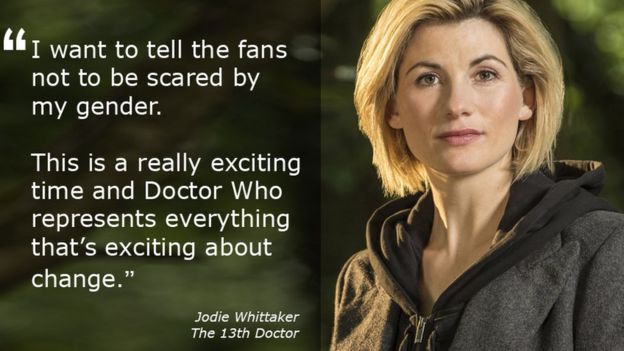 Right …
There's news, and news, today …
I'm a Dr Who fan feeling mildly delighted at the moment!
Yep.
I've seen the announcement about who's to play the thirteenth Doctor.
And absolutely delighted to say it's a woman.
Frankly?
I'm rather pleased: I wish her well, and want to see how she does.
Unlike some fans: some of the fan reactions I've seen — along the lines of "I'm never watching the show again" — is …
Cannot deny that I am amazed by the 'never watch it again' reaction by some viewers ( I hesitate to call them 'fans'). Very sad

— Colin Baker (@SawbonesHex) July 16, 2017
There's possibly a lot of ways I could describe those reactions: but 'antiquated,' is possibly the best way.
This is, after all, a science fiction show whose central — and non-human — character travels through time and space in a phone box.
And, in cases of extreme medical need? Can physically change form in order to deal with that need.
The fact the character's stay the same gender? Even the same ethnicity?
Seems odd.
No Janet. I have always been in favour but never thought 'they' would be brave enough

— Colin Baker (@SawbonesHex) July 16, 2017
Let's move on, shall we?
Yesterday's
Teaser saw Debbi* putting in her answers: scoring five out of five in the process.
Let's see how everyone does with today's questions, shall we?
Q1)

Disneyland was opened: on 17th July of which year?
Q2)

Damasus 2nd was elected to office: on 17th July, 1048. To which office: pope, anti-pope, Coptic Pope or US President?
Q3)

One person was killed, and forty-one people injured, when an IRA bomb went off: on 17th July, 1974. Where: the Tower of London, the London Eye or the House of Commons?
Q4)

Ismail 1st was born on 17th July, 1487. Ismail was Emperor of Persia. As such, he held what title: Shah, Emir or Wali?
Q5)

Finally … 17th July, 2000, saw Tesco decide to revive what: zombies, imperial measurements or tobacco sales?
Q1)

16th July, 1965, saw the opening of the Mont Blanc road tunnel. The Tunnel connects France … to where: Italy, Switzerland or Germany?
Q2)

Ringling Bros. & Barnaum and Bailey's stopped playing in their Big Tops: on 16th July, 1956. The Circus company finally closed in which year?
Q3)

The Duigan Pusher biplane was tested: on 16th July, 1910. The plane was the first built in which country?
Q4)

The Chaplain-Medic massacre took place: on 16th July, 1950. During which War: the Vietnam War, the Korean War or the Second World War?
Q5)

Finally … Ruby Stevens was born: on 16th July, 1907. She was better known as which actress?
Here's a song by Zoot and the gang …
Here's a thought …
"Most harm is done by people who are awake."

Jeremy Hardy, 17th July, 1961.
Today's questions will be answered in
tomorrow's
Teaser.
Have a good day!
* It's OK, Debbi, I saw the news about fourish, while I was at work: I just couldn't wait. I'm disappointed: I wanted Tilda Swinton!!!!!!! At ANY rate? I'm happy† to see she's got the role: I'd LOVE to see her in action but saddened hear so much
negative
reactions. Oh, there's sad news, today. It seems Martin Landau AND George A. Romero have died: that's sad to hear.
† Happy she got the role … and glad I didn't put a bet on Kris Marshall!